Why Heirloom Tomatoes Taste Better than Supermarket Tomatoes
Why does the tomato you pick from your own garden or buy from a farmer's market taste so much better than a bland supermarket tomato? This answer is that a tomato's taste depends on its genetics and its growing conditions.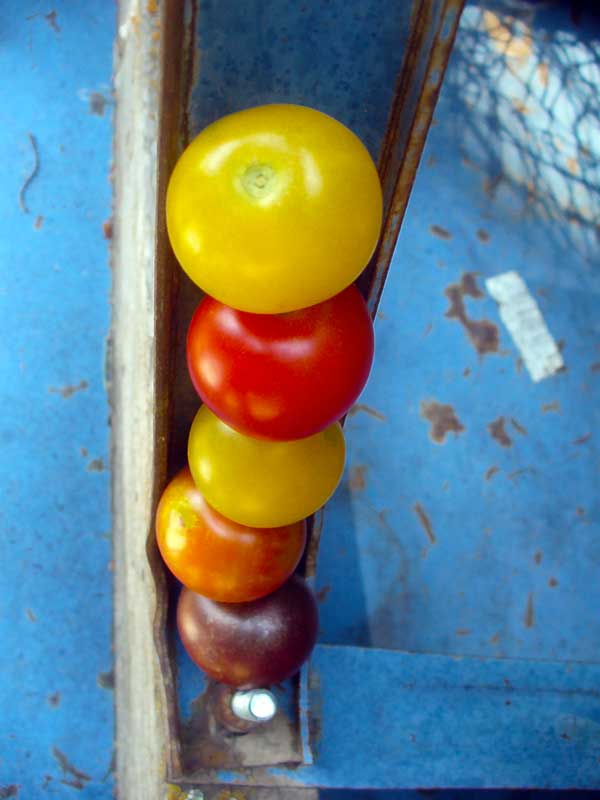 The flavor of a tomato is determined by its sugar content, acidity, amino acid composition, apocarotenoids concentration, and aromatic volatile compounds. Research indicates that heirloom tomato varieties contain more natural sugars, apocarotenoids and volatile aromatic compounds than commercial tomatoes (Powell et al. 2012, Tieman et al. 2012). This super concentration of sugars and aromatics gives heirloom tomatoes their extra savory flavor.
Aromatic volatile compounds are small natural chemicals that easily become vapors at room temperature. These compounds are responsible for the delicious smell emanating from a ripe tomato. When we chew food aromatic compounds drift up our nose and into our palate. These natural smells contribute greatly to food's taste.
Carotenoids are colorful red, orange or yellow pigments in fruits and vegetables which may reduce the risk of chronic diseases such as cancer (Linnewiel-Hermoni et al. 2015).
When carotenoids split in half they form apocarotenoids (Kopec et al. 2010, Eroglu and Harrison 2013). Apocarotenoids occur naturally in tomatoes and many other fruits and vegetables. For example, apocarotenoids are partially responsible for the delightful smell of a ripe raspberry. In addition to contributing to the taste and smell of fruits and vegetables, some apocarotenoids also have anticancer activity (Sharoni et al. 2012).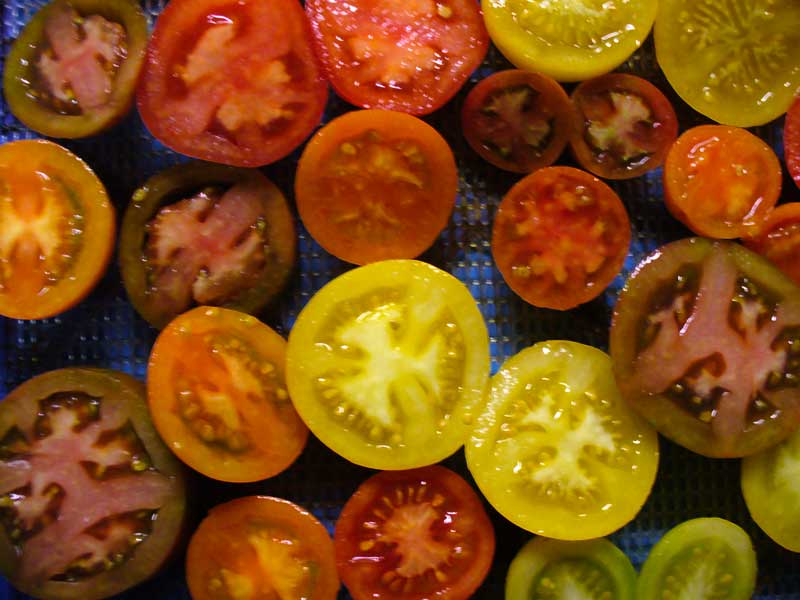 Heirloom tomatoes have a tremendous amount of diversity in form and flavor. When Tieman et al. (2012) analyzed 152 different heirloom tomatoes they found that there could be a 3,000-fold difference in volatile compounds between the different varieties. The same study found that 12 compounds were mainly responsible for tomato flavor intensity, 12 compounds were responsible for sweetness, and 8 were involved in overall flavor. Interestingly, some of the aromatic flavor compounds can also influence our perception of tomato sweetness through our sense of smell.
Geranial, a aromatic compound (more specifically an acyclic monoterpene alcohol), is extremely important in tomato flavor. This compound has a strong lemon or citrus odor and is found in lemon grass, ginger, basil, citrus and strong smelling roses.
Almost all tomato varieties preferred by testers (170 volunteers) contained high amounts of geranial (Tieman et al. 2012). Not surprisingly, heirloom tomatoes contain higher concentrations of geranial than commercial fruits. Geranial enhances flavor while intensifying sweetness of fruits.
Interestingly, one of the precursors of geranial, geraniol, may inhibit cancer cell growth through inhibition of polyamine activity and decrease of ornithine decarboxylase activity (Carnesecchi et al. 2001).
Commercial tomatoes lack many of the aromatic compounds, amino acid and sugars found in heirloom and old fashioned open-pollinated tomato varieties. This makes eating them about as fun as chewing on a squishy red cardboard box. For more on why commercial tomatoes resemble Styrofoam covered in thin red vinyl see our page on why commercial tomatoes taste bland.
References: