Plow Maker Farms
Apricosa
This orange open pollinated cherry tomato has a dual sweet and savory taste. Biting into an Apricosa is a foodies's dream. These little yellow tomatoes first taste sweet then as you chew a flood of umami flavoring hits your taste buds. The delicious yellow beauties are a huge hit at the farm; with people fighting over them as they ripen.
Apricosa is an exotic Belgium tomato variety recently introduced to the United States. From the taste of this little stunner, it is pretty obvious that the Belgiums know their tomatoes!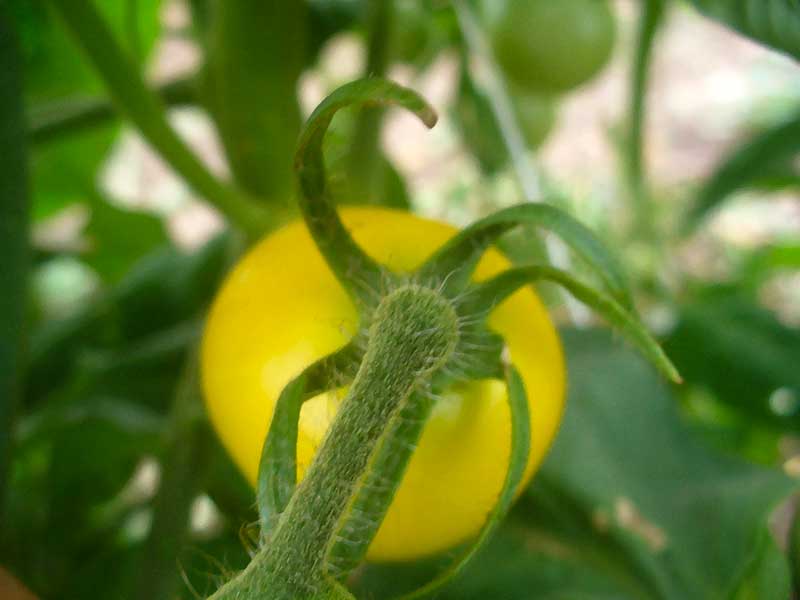 Picture: A tasty yellow Apricosa tomato.
These small but sweet orange globes are great for eating fresh or for adorning a fresh salad. Use them in a meatless dish to add a savory taste or add them to meat to double the flavor. Quarter these organic beauties and sprinkle them on your favorite pasta dish.
Roasted Garlic and Cherry Tomatoes
5 cups cherry tomatoes
6-12 garlic cloves, cut in halves or fourths (baking will make the garlic sweet and mellow)
2 tablespoons extra virgin olive oil
1 tablespoon butter
2 teaspoons fresh basil (or 1 teaspoon dried basil)
1 teaspoon fresh oregano (or 1/2 teaspoon dried oregano)
1⁄2 teaspoon salt
1⁄4 teaspoon cayenne (optional)
1⁄4 teaspoon black or white pepper
Optional: add several cups chopped onions, carrots, zucchini, parsnips, mushrooms or any other favorite vegetable
Optional:
1/2 lb pasta (wheat or gluten free)
1⁄2-1 cup grated or shaved cheese (Parmesan, Asiago, Romano or any sharp flavorful cheese works well)
Chopped parsley
Instructions:
In a bowl toss sliced tomatoes, sliced garlic, any optional chopped vegetables you desire, olive oil, melted butter, basil, oregano, salt, cayenne pepper (if desired) and pepper.
Place mixture in a large heavy metal roasting pan or rimmed baking sheet in a single layer. Roast at 400°F for approximately 30 minutes. Many chefs prefer a metal pan for roasting vegetables since it has a more direct heat than a Pyrex pan. When the tomatoes are done they will be shriveled and slightly browned.
Cook pasta in a pot of salted boiling water using instructions on package while tomatoes and garlic are cooking. When done, drain the pasta and return it to the pot. Add garlic tomato mixture to the pasta, add parsley if desired and toss to coat. Serve with a sprinkle of freshly grated cheese.
Paleo fans can skip the pasta and just enjoy the roasted tomato garlic mixture with a chunk of protein.