Plow Maker Farms
Jaune Flamme Tomato

Jaune Flamme is just as exotic as its name. First you notice the color; a deep orange that seems lit from within. Then you take a bite and relish the explosive complex citrus like flavor that manages to surprise and delight you all at the same time.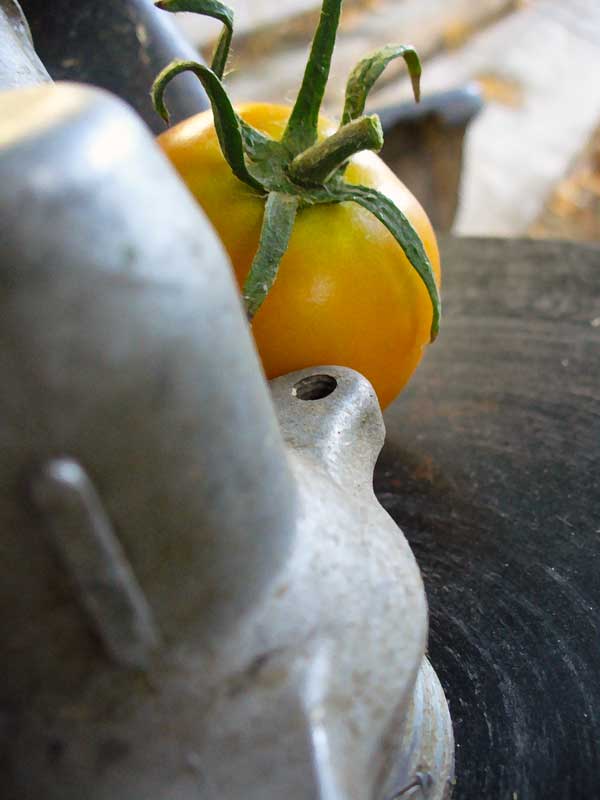 Picture: A shy and wary Jaune Flamme tomato plays peek a boo.
Beautiful russet orange heirloom tomatoes have the ideal blend of fruity sweet and tart flavor. This small organic tomato has a very unique taste! Jane says this is one of her favorite tomatoes. It is wonderful eaten fresh, topping a salad, dried, used in salsa and in tomato relishes.
As you may guess from the name, Jaune Flamme Tomato is a French heirloom tomato. Jaune Flamme means 'yellow flame' in French. I'm not sure whether the name describes the great taste or the unique color! Try these dried to maximize the intense flavor.
'Sun-Dried' Tomatoes
Choose firm tomatoes (Jaune Flamme make great dried tomatoes due to their intense flavor)
Cut in quarters lengthwise (or small tomatoes in half)
Optional: You can remove seeds if you want; I don't bother
Spread in food dehydrator pulp side up allowing room for air to circulate. Set temperature to 135-140F
Sprinkle with salt or spices if you want (can also leave tomatoes natural)
Will take at least least 8 hours.
No food dehydrator? Bake in oven at lowest temperature on cake racks for 10-20 hours.
In both cases tomatoes are done when they are leathery but not brittle (like a raisin). Tomatoes should not be tacky.
Let tomatoes cool. Store tomatoes in zipper type bags squeezing out air.
Store in freezer for longest shelf life.