Plow Maker Farms
Black and Brown Boar Tomato
This is a yummy meaty black tomato. Black and Brown Boar tomato has a distinctive earthy taste which is unlike red tomatoes. Its smoky rich flavor adds an extra flair to pastas and cooked tomato dishes. Overall this open pollinated tomato has a very balanced flavor profile.
This tomato is as gorgeous as it is tasty. Black and Brown Boar tomato's beautiful red and green coloration looks gorgeous on the counter top. Painters may feel compelled to immortalize this tomato in oils.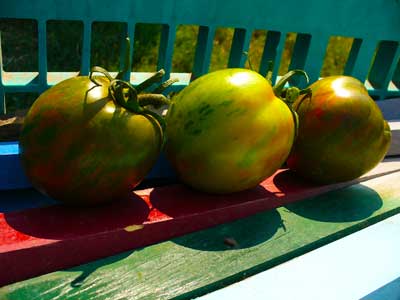 Picture: Three Black and Brown Boars sun themselves on garden stakes.
Black and Brown Boar tomatoes are the delicious offspring of gourmet Green Zebra tomatoes.
Cooking hint: simple tomato pastas are only as tasty as the tomato you use. If the tomato tastes like cardboard so will your sauce. For the best taste use fully ripe flavorful heirloom varieties.
Recipe: Simple Tomato Pasta Sauce
1-2 medium or large very ripe Black and Brown Boar tomatoes (or any ripe tasty tomato)
1 cloves garlic minced or grated
2 tsp olive oil
2 tsp fresh chopped basil (can substitute fresh parsley)
1/2 tsp salt
1/2 tsp sugar
1/2 tsp lime juice (can substitute lemon juice)
optional: small pepper, chopped onion
topping hard grated hard cheese or fresh mozzarella
Seed and dice tomato if desired.
Raw version: In small bowl or saucepan mix tomato, basil, garlic, lime juice, salt and sugar. Serve over hot pasta.
Cooked version: Heat olive oil in sauce pan. Gently saute garlic for several minutes being careful not to burn garlic. Add tomato, basil, lime juice, salt and sugar and simmer for 5-10 minutes in saucepan. Pour over freshly cooked pasta of any sort.