Plow Maker Farms
Roni
No need to choose between a juicy sweet or a refreshing tangy tomato. This organic tomato is the perfect mix of sweet and sour to tantalize your taste buds.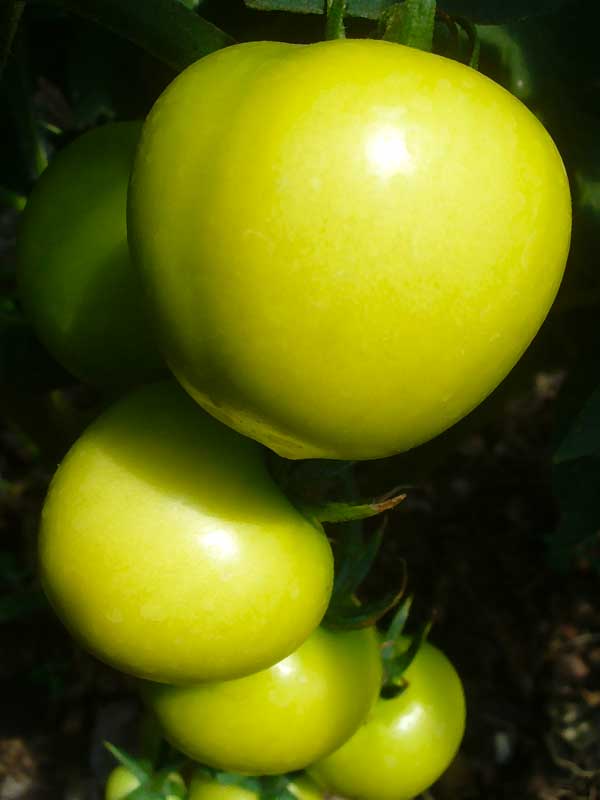 Picture: A green tower of delicious Roni tomatoes.
Slice Roni tomatoes for a perfect sandwich or chop for use in pastas. This hefty tomato will add a perfectly balanced taste to any dish.
Recipe: Easy Roasted Pasta Sauce
2 - 3 lbs (about 8-12 large fruit) large slicer tomatoes such as Roni or Rutger tomatoes, chopped
2-3 medium sweet peppers chopped (if you like spicy sauce add a few hot peppers)
2-3 medium onions (fine chopped) - white, yellow or purple are all good
2-3 cloves finely minced garlic (2-3 teaspoons)
2 Tablespoons balsamic vinegar
1/4 cup extra virgin olive oil
2 teaspoons fresh finely chopped basil
2 tablespoons fresh chopped oregano (or 1 teaspoon dried)
3 teaspoons fresh chopped Italian (flat leafed) or regular parsley
1 teaspoon brown sugar
1/4 teaspoon salt
1/2 teaspoon freshly ground pepper (try smoked peppercorns)
Preheat oven to 325 F. Make dressing with garlic, balsamic vinegar, extra virgin olive oil, basil, oregano, parley, brown sugar, salt and pepper. Mix tomatoes, peppers and onions in a large baking or roasting pan. Toss in dressing. Bake 2-4 hours until thick and savory.
Let sauce pan cool and measure out servings in zipper freezer bags and freeze. Use over pasta or any recipe calling for tomato sauce.