Plow Maker Farms
Black Cherry Tomatoes
These beautiful dark red or purple colored cherry tomatoes have a distinctive sweetly rich taste which is unlike regular red tomatoes. Pop one in your mouth and you will quickly reach for another.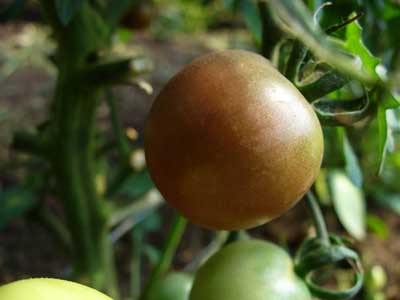 Picture: Luscious lack Cherry Tomato on the vine.
The complex flavor of most black tomatoes can be described as complex earthiness with smoky overtones. These are definitely not your average cherry tomato. Try Black Cherry Tomato's unique flavor in a goat cheese salad or a flavorful pasta sauce.
This organic meaty heirloom plant is open pollinated.
Recipe: Savory Black Cherry Tomato Sauce
2 tsps butter
1 tablespoon extra virgin olive oil
1 large onion, diced
1-2 garlic cloves (2 tsps), finely minced
1 pound black cherry tomatoes (about 20-30 cherry tomatoes)
1 teaspoon brown sugar 1 teaspoon salt
optional: 1/4 cup fresh oregano, 2 teaspoons fresh thyme, freshly grated hard cheese
Add butter, olive oil and onions to a large saucepan over medium heat.  Fry, stirring occasionally, until the onion is translucent (approximately 5-7 minutes).  Add the garlic and cook for 1-2 minutes.
Add the cherry tomatoes, oregano and thyme to the pan and stir. Cook tomatoes for 2-3 minutes or until they get soft and release their juices. Carefully crush the tomatoes with a potato masher or a larger spoon. Add brown sugar and salt. Reduce the heat to very low and simmer sauce for 20-30 minutes or until rich and thick. Taste for seasoning, add salt if needed. If taste is too sour add 1-2 more teaspoons brown sugar. Feel free to sprinkle with cheese!
This richly flavored sauce compliments any pasta dish. It is also great poured over chicken and sprinkled with a Italian cheese such as Parmesan, provolone or asiago.