Plow Maker Farms
White Cherry Tomato
A savory little mild morsal with an unexpected sweet note at the end. Everyone loves these fresh heirloom cherry tomatoes that lean towards a pale yellow in color. Delicious fresh from the vine and lovely adorning a summer salad. White Cherry Tomatoes are a juicy and succulent snack. Perfect for those with a bit of a sweet tooth.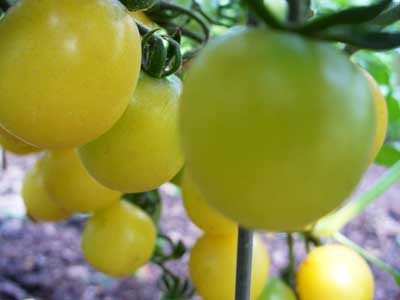 Picture: As they ripen, White Cherry Tomatoes can appear more yellow than white. No matter the color, they always taste divine!
White Cherry Tomatoes look delightful in a bowl of mixed heirloom tomatoes. These lovely beauties make the perfect addition to this cooling summer salad.
Recipe: White Cherry Tomato Summer Salad
Ingredients:
3 cups of White Cherry Tomatoes (halved or quartered)
1 cup chopped cucumber
1/2 cup block feta cheese (can substitute goat cheese or fresh mozzarella)
1 tsp. fresh chopped basil
1 tsp fresh chopped parsley and/or thyme
1 tsp lemon juice
1 tsp sugar
2 tsp balsamic vinegar
2 Tbsp of finely chopped shallots, chives or green onions
2 teaspoons extra virgin olive oil
Coarse salt and freshly ground black pepper to taste
Optional: 1/2 cup toasted walnuts or pecans
Gently toss the tomatoes, cucumber, crumbled cheese, and shallots together. Dress with balsamic vinegar, lemon juice, olive oil, parsley and basil. Add salt and pepper to taste. Toss in nuts if desired. Cover and marinate in the refrigerator for at least 1 hour to overnight.
Serve plain or use to top a spinach or leafy green salad!